Pest Pros is a steadfast pest control company in Las Vegas. 
The business was founded by Jeff Richards who has been in the industry since 1999. He first received his operator license from the Nevada Department of Agriculture in 2000, then became a Primary Principal in 2003. From then on, Jeff had dedicated his life to fighting pests and has since completed over 50,000 extermination and preventive services. 
Where Inspiration for pest control started.
Jeff's devotion to this career has taught him many valuable lessons, all of which are being implemented in the field today- through Pest Pros' eco-friendly practices. To learn everything about the industry, Jeff had worked his way up through every department of the pest control business. He first began as a well-trained technician before he took over the office to learn the nitty-gritty details of customer service and its importance. When Jeff moved on to sales, he brought along all those valuable lessons and helped his company grow by 300%, annually. It became evident that he had a calling, but he had much more to learn. 
When expanding a company through sales wasn't challenging enough, Jeff decided to train others. Somewhere in this timeframe, Jeff learned the discipline of patience and endurance. To teach others reciprocated a greater purpose in himself. He took up a managerial position because people admired him and eagerly followed his leadership. When he accepted being a leader was appealing to his character, Pest Pros Las Vegas was born.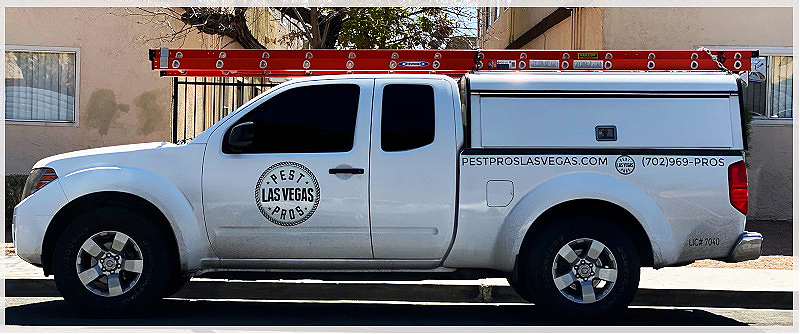 Jeff says, "Over the past 20 years, we have learned a few core concepts to nurturing a successful pest control company. These consist of safe and effective treatments, affordable pricing, and excellent customer service while always guaranteeing your work. We stick by these values." 
The Las Vegas Exterminator
Pest Pros Las Vegas became an entity in Nevada in 2018 and has since served thousands of homes and businesses, receiving hundreds of 5-star reviews in Yelp and Google. As of 2022, we remain a member of the Better Business Bureau with an A+ rating to complement our service awards on Home Advisor and Angi's List. Search for reviews and see what other customers have been saying about us. 
We are a small local business with 2 staff covering the daily routines in the office, answering your phone calls and emails, plus 3 technicians to do the rounds. We are a very efficient team considering the size of the operation. To service our clients, we maintain 2 fully equipped service vehicles. Additionally, we utilize top-of-the-line Birchmeier sprayers that are the most innovative in the industry. Our bait and pest control chemicals are commercial grade with the highest effectiveness and safety ratings. 
We are The Affordable Exterminator in Las Vegas.
What you can expect from us is truly professional exterminator and pest control services. To achieve that, we must ask you to prepare ahead, beginning from when you contact us. The most efficient method is to submit an inquiry through our sign-up form. Our team will be notified almost instantly once you do. When we have your request in the database, it is much simpler to review your information rather than entering this information by phone. But we understand if phoning or texting is more convenient, therefore, please call us. The Pest Pros are always happy to be of any assistance. After all, we value you as a customer and want to serve you well and earn your trust.
Save Money with these Special Offers
Mention this offer and receive one free general pest control treatment included with any specialty service!
Sign up for 6 scheduled general service treatments and receive the 7th service free!
7th Service Free
Refer a friend that signs up for our 6 service program and you'll receive a $20 service credit to your account. Must mention at time of signup.
~Transcended happiness is life without pests.~