Who would need rodent control in Las Vegas?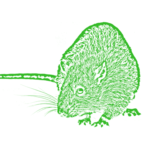 Rodent control is a need in Las Vegas to prevent a mass outbreak. One female house mouse can reproduce more than 30 offspring in a year. The rat variety can repopulate at a similarly alarming rate. So when you stumble on rodents in your home, it is likely your property is used as a breeding ground. When your home or business is overwhelmed with rats or mice, they prose dangers of flooding, fires, and property destruction, and they stink. Rodents are associated with many pandemics of the past. For this reason, our trusty health departments inspect businesses that cater to the public, like restaurants, hotels, and schools.
Rodent Pest Control Process
What does Pest Pros rodent control service include?
Pest Pros Las Vegas implements a rodent control system with an enviable record. Our baiting system is industrial grade and has a well-established safety and proven efficiency. This exterminator service includes inspection of your property, requiring you to be physically present. In the process, our steadfast technicians will snap pictures for analysis and planning of the 3-months long rodent control program. The startup method is to install three baiting stations safely tucked away in strategic spots around the home. After 30 days, our team will return to analyze the effectiveness of our strategy and maintain the baiting stations.
What to expect with the baiting system?
Infestations will diminish after the first 30 days of rodent control service. However, there are usually stragglers. The 2nd refill of the baiting station will entice the remaining rodents with the fresh scent of bait, while the 3rd refill will ensure the extermination of rodents is total.
During the weeks, you may wonder where they go to die. We honestly don't know. However, of the numerous times, we've applied this baiting method of rodent control, there has only been one customer who'd found a dead rat in the yard. So we hold onto this idea that rodents meander outside to die because they seemingly do in so many cases.
Las Vegas Rodent Control Price
Initial Setup
3 full bait stations install

$50 per additional station needed/requested
Refilling & Monitoring
2 additional months recommended

Covers refilling of 3 initial stations
How Las Vegas rodent extermination service is priced.
Our rodent control methods take 90 days to exterminate the rodent colony. Our initial startup price is inclusive of up to 3 fully-loaded baiting stations. We will refill these twice more every 30 days, which carries a maintenance cost of $50 per trip to service and refill. When supplement baiting stations are needed, an additional $50 will incur per device.
How to hire Pest Pros Las Vegas for rodent control?
You can submit a work order or submit a free quote form on the sign-up page. Alternatively, sending us an email with images and an address would give us an edge and save time. Or else, call us! In any case, we provide answers immediately.
How you can help in the rodent control process…
The customer will need to be home on the first visit. We will inspect your property thoroughly and arrange to install our baiting stations. They are tamper-proof and locked at all times. Notwithstanding, we recommend being aware and keeping a distance from the stations to prevent rodents from becoming too suspicious and fearful. One example to avoid is a dog urinating on the station, which will alarm the rats and mice and deter them from eating.
Summary of Pest Pros rodent control service and WARRANTY
When dealing with an entire rat or mice colony, or both, our rodent control method is to give a drug that will ultimately kill them. Naturally, rodents have predictable habits, allowing us to place palatable baits in serving stations to lure feeding. Once the colony has consumed enough, the rodents will die off. We use Resolv's palatable soft bait rodenticide for exterminating rats and mice. The bait contains the anticoagulant bromadiolone that will eventually kill the rodent within 2 to 4 days. 
As the rodent control progresses, the customer will need to remain aware. First, remember to keep your distance from baiting stations. Secondly, keep pets and children away from baiting areas. Lastly, if there are dead rodents within your domain, make sure to use gloves or tongs and double bag the carcass in plastic as you toss them into the external garbage bin. One good alternative is to bury the remains at least a foot deep. 
We know there are many specific situations involving rodent extermination and prevention. Use our contact form or email us to inquire more about Rodent Control Las Vegas. When hiring us to exterminate mice and rats from your home and business, we guarantee that we will. Your complete satisfaction is what matters to us. Call us and find out.