Who needs a German Cockroach Control?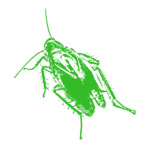 German cockroaches could hitch a ride home from virtually anywhere. Even more, cockroaches reproduce at a rate that almost guarantees their species never extinct. For this reason, your Las Vegas home or business could use our German cockroach control service. 
Once they've found a new home, their favorite environment is somewhere in our kitchen and bathrooms. When infestation takes hold, the danger of disease increases by many factors. Additionally, German cockroaches release a pungent odor surrounding the immediate environment. This odor can change the ambiance, even the flavor of foods served from the kitchen. 
What does German cockroach pest control service include?
Specially formulated bait products will exterminate cockroaches when consumed or come in contact. We inject granular baits and dust into wall sockets, behind cabinets and appliances, and other hard-to-reach areas. Baiting gel is applied with syringes to place droplets in hidden spots of the kitchen and bathrooms.
Complementary to the German cockroach control, general pest treatment is provided inside-out.
German Cockroach Pest Control Includes:
How German cockroach control service is priced.
German cockroach control includes extermination and preventive services. We treat the property with baits and glue boards and complement the service with General-Service so that you will receive a full-property treatment. Additionally, because German Cockroaches are resilient, we will only provide this exterminator service if the customer agrees to complete 4 consecutive months of treatments. After the initial service, the following monthly services are reduced according to the price table below. 
German Cockroach Control Price
What to expect with the baiting system?
German cockroach pest control is an ongoing treatment process. The first month could destroy as much as 95% of the infestation. However, roaches breed rapidly for their own survival. For this reason, the remaining three months will focus on eradicating the stragglers. Like our Bed bug exterminator service, German cockroach control requires a minimum of 4-months commitment.
Because our baiting system has a slow kill effect, customers do not report mass amounts of dead cockroaches everywhere. Most will die at their nesting areas in the walls and behind cabinetry work.
You won't need to leave the house for treatment, although we request that you keep the kitchen clean and seal all foods. When the home or business is clean, the baiting method works flawlessly. Also, note that Gel baits are safe for humans and pets.
How to hire Pest Pros for German cockroach pest control?
Submit a work order or request a free quote form on the Contact Us page. Alternatively, sending us an email with images and an address would give us the lead time to investigate. Or else, just call us! In any case, we provide answers immediately.
How you can help in the German cockroach control process…
Before receiving the German Cockroach pest control service, we will require the customer to clean thoroughly around the kitchen so that scraps of foods are non-existent. This will ensure our baiting tactics are effective, considering it will be the only food source around. After the initial service, we will leave further instructions depending on the situation. The only requirement is to keep clean and not leave other foods out.
Summary of German Cockroach pest control service and WARRANTY
German cockroaches are resilient and can multiply at an alarming rate. After effective initial treatment, there will be enough cockroaches remaining to flare up again. For this reason, our 4-months long program will focus on exterminating the entire colony. We guarantee every treatment with a 30-days expiration.