Who needs scorpion pest control in Las Vegas?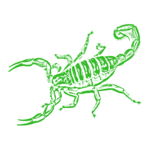 Scorpion pest control is common in Las Vegas because it is their ecosystem. Most are fearful of them because scorpions are venomous, while their sting could be dreadfully painful. However, in most cases, our packed emergency rooms will not likely treat a scorpion sting unless the person is having rare allergic reactions. In any case, most of us don't want to be living with the lurking threat of scorpions under the sofa cushion or hiding under stacks of plates.
Pest Pros implements scorpion pest control methods that are safe for homes and businesses. Under our pest management system, scorpions will no longer be a menace. 
What does Pest Pros' scorpion pest control service include?
Your home or business will be thoroughly inspected for scorpions. During an inspection, the technician will apply products specifically for exterminating scorpions. Additionally, our scorpion pest control is coupled with General-Service, entitling you to a property pest treatment. We will treat your property from the inside out, spraying and scattering granules over the lawn and areas like rock beds, dirt, and grass.

Injection of scorpion-control dust to walls, doors, sliders, windows, vents, cable lines, ac lines, electric lines, and plumbing. Lastly, we will also implement glue boards by placing them in strategic areas, out of the pet's way.
Scorpion Control Las Vegas
Initial Treatment
Scorpions & general pests
Monthly Maintenance
Scorpions & general pests
What to expect with the scorpion pest control system.
Scorpions are a small part of the Las Vegas community. They're generally on the move, hunting for a meal, going from one property to another. Hidden areas where it is dark and humid are where they settle and breed. Because of that, our steadfast technicians will inspect your entire property to analyze the tactical approach to setting up baits and trapping tools. With our gels and granules, scorpions are directly targeted. The scorpions that come into contact with our product will die within 24 hours.

Unfortunately, scorpions are not easily deterred, and new groups can simply move in because pesticides lose potency. Our scorpion pest control management systems solve that problem by regularly scheduled maintenance.
How to request a scorpion pest control service.
You can submit a work order or submit a free quote form on the sign-up page. Alternatively, sending us an email with an address would give us an edge and save time. Or else, just call us! In any case, we provide answers immediately. 
How you can help in the process.
Glue boards are 3 sided and can be rotated each visit. There are no chemicals on glue boards, only very sticky. Don't let smaller pets like birds, lizards, hamsters get stuck on them. A dog or cat would just flap it around until a human painstakingly removes it. Scissors can cut the hair-free, while Pam cooking spray will deactivate the glue. Be sure to wear protection when handling scorpions, dead or alive.
Scorpions are pests that roam all year round, squeezing through the tiniest of crevices and going from home to home in every Las Vegas neighborhood. The best practice to keep scorpions at a minimum is to tidy up with house maintenance. Remove yard trimmings. Check irrigation for overwatering or puddling. Keep plants trimmed and not touch walls. Do not provide harborage spots for other insects to breed.
Summary of scorpion pest control service and WARRANTY.
Scorpion control includes general pest control services, inspection, and treatment inside and out. Pest Pros guarantees the effectiveness of scorpion pest control for up to 30 days after each treatment. Heavier scorpion problems will need monthly service year-round to provide any warranty.