Who needs pigeon control in Las Vegas?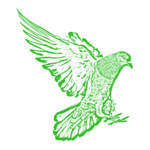 Pigeon control is a removal and cleanup service that implements preventive methods like solar-mesh and bird spikes. Pigeons make trails of messes, pose a threat of disease, and can be very bothersome birds. Shut them out from your home or business with Pest Pros' professional pigeon removal service.
The pesky birds accumulate filth and especially enjoy roosting in their poop. When accounting for the months and years of this habit, their presence can cause more harm to your residential or commercial property. For instance, the trash they collect under the solar panels can destroy electrical parts. At the same time, their habitat will attract other animals and potential diseases. It does not help to have them pestering around your business, searching for food. Besides, Las Vegas is one of many cities around the globe that has made it illegal to feed pigeons.
Pest Pros uses UV-coated wire mesh (solar-mesh) for attaching solar panels. We use J-hook clip-ons which will not damage your equipment. In addition, our pigeon spikes are truly purposeful and designed to suit every project dimension. Our services extend to all commercial and residential properties in Las Vegas. However large or small your pigeon control project is, our consultation is free.
Pigeon Pest Control Includes:
Startup price for Las Vegas Pigeon Control
Pigeon Removal & Prevention
$
200
minimum service charge
15 feet of spike included

30 min of cleanup included

1 year guarantee included

Additional Charges:

$10 per extra ft of spike

$50 per extra 30 min of cleanup

$8 per ft of solar panel pigeon guard
How do you hire Pest Pros pigeon removal service?
When pigeon control service is needed, get your camera out and snap some pictures. Take some close-up shots, and also some from a distance. The photographs need to show all the evidence of the bird infestation you are experiencing. After that, contact us through email, send us those pictures, and post a location and phone number so our team can call you. We will study the information you sent us and respond very quickly. Use the direct link to our email logo at the bottom of the page. Alternatively, you can call us or submit a request for a free quote through our signup page. 
How should customers prepare for a pigeon control service?
Preparing your property for pigeon control service takes little effort, mostly planning. Once we have inspected the property and agreed upon a plan, Pest Pros technicians will arrive set to work with precision equipment to get the job done as efficiently as possible. Other preparation procedures will depend on the situation and where the nests are located. It is generally a good idea to clear a path for technicians to work freely. Other details will be discussed during the staging process.
Summary of Pest Pros pigeon control service and WARRANTY
Pigeons are fond of rooftops near their feeding ground. They will settle under any ledge with a canopy to protect them from sun, wind, rain, and predators. Common nesting areas are shade pockets, solar panels, fireplaces, air-conditioning units, window ledges, and overhangs. The goal of pigeon control is to block access to their potential roosting areas. To do so, we install pigeon spiking or wire-mesh screens to prevent them from entering these areas permanently. Our startup package includes 30-minutes of cleanup and 15 feet of pigeon spikes and adhesives. This is ample for several spots around a home. Should the job require more specialized materials and time to clean, an additional charge may incur. In which case, we will already have made this known before we began the pigeon removal process.
All details on your project will be clarified in the plan when we estimate on a per-situation basis. Our work comes with a customer satisfaction guarantee and a 1-year warranty on our work and material.
Follow this link to learn more how solar mesh installation is implemented as pigeon control.