Affordable, Efficient, Eco-friendly Solutions
Las Vegas • North Las Vegas • Henderson
Pest Control Las Vegas, 20+ Years
Las Vegas pest control and exterminator services are affordable at Pest Pros. Our family-owned and locally-operated exterminator business give us the edge because we are your friendly neighbor with the scoop on all the bugs. We have over 20 years of experience removing, exterminating, and preventing pests infestations on The Strip. We implement cutting-edge innovation to service Las Vegas homes and commercial property with the most affordable and efficient solutions that are pet-friendly and eco-friendly.
Customer service par excellence is our honor. As a result, we provide a warranty with every service.
General Pest Control Services Las Vegas
Pest Pros' general pest control service will exterminate nearly all of the pests encountered in Las Vegas. Common problems like ants, spiders, crickets, and cockroaches are all included. We eradicate every variety of them, using any proven method, and taking all the time necessary to accomplish our shared goal of a pest-free environment. 
General Pest Control Service is the most cost-effective program available in town. Regardless of dealing with single species of bugs or many species, the first treatment will reduce infestations significantly. Furthermore, we can prevent future infestations with scheduled maintenance. Commercial pest control also fits into the category of general services and is similarly priced. 
Keeping pests under control is an ongoing battle. We have flexible service options to offer you the best results and value. 


1 Service
30 Day Guarantee
1 treatment. No future visits.

30 day guarantee after each service

Indoor & outdoor treatment targeting all general pests
3 Services
6 Month Guarantee
$
80
Per treatment. Every 60 days.
3 treatment program. $80 every 60 days

60 Day guarantee after each service

Indoor & outdoor treatment targeting all general pests

Price breakdown of only $40 per month!
6 Services
+ 1 Free
1 Year Guarantee
$
60
Per treatment. Every 60 days.
6 treatment program. $60 every 60 days

60 Day guarantee after each service

Indoor & outdoor treatment targeting all general pests

7th SERVICE FREE!
Price breakdown of only $30 per month!
If pests return during your warranty period, we'll come back to treat the area again at no additional cost.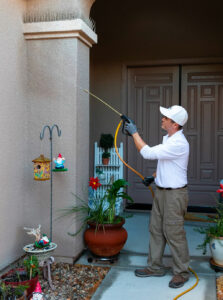 Why Pest Pros is the choice...
Child, Pet & Environmentally Safe
There are three additional objectives when considering pest control. First is the safety and health of the people, particularly children, and elderlies. The second is the vulnerability of pets. The third is the environmental impact of our procedures. Because of this, Pest Pros will continue to utilize products and methods that are scientifically proven and approved by the Nevada Department of Agriculture. Our exterminator services are carefully designed to be safe for your family, pets, and the environment. We abide by all rules and regulations that govern the common cause for the safety and health of the public. You can trust Pest Pros Las Vegas will solve your pest issues without putting your family at risk.
Affordable Pest Control in Las Vegas
We share the same goal as our customers concerning the desired result of pest treatments, so our company will provide a complimentary warranty with every service. Our policy is to ensure we've rid your property of pests, just like you had planned. If the bugs return during your warranty period, we will rush out to take care of them for free. Your satisfaction is guaranteed! 
Pest Control Specialist Services
Our general pest control service will exterminate and prevent most native pests. However, you might be dealing with a more burdensome problem, like pigeons and bed bugs. In which case, these issues may require a different treatment plan.
Select a specialty service below for more details. 
Save Money with these Special Offers
Mention this offer and receive one free general pest control treatment included with any specialty service!
Sign up for 6 scheduled general service treatments and receive the 7th service free!
7th Service Free
Refer a friend that signs up for our 6 service program and you'll receive a $20 service credit to your account. Must mention at time of signup.
We have been using Pest Pros for about 3 years and we are really happy with their service. We originally had them come out for an inspection (we thought we had bed bugs) and they were VERY thorough and extremely nice! We have since kept them on as our regular pest prevention. We are on a schedule for regular sprays to keep any critters away. We highly recommend this company.
I am a property manager and have used Pest Pros for rats, scorpions and roaches on properties that I manage for about a year now. They are amazing! Their customer service and quality is unmatched. They treat my tenants with so much respect, care and empathy. It really is hard to find now a days with vendors. Most vendors don't give the tenants the same quality of customer service as they do me because I am the one paying BUT for me it is important to have a happy tenant and Pest Pros strives for that. Thank you for being awesome guys!
The best price around the valley for pest control and I definitely spent some time doing my research of different companies. The lady doing the scheduling was able to fit us in on very short notice, which I appreciated because we had an ant problem. Jeff and Quentin came out to spray. They were very polite and personable and let us know what was being done and that it would be ok for our kids and fur babies. Great price and great customer service. Definitely recommend!
We provide pest control in Las Vegas and all surrounding areas, including:
Las Vegas, North Las Vegas, Centenial Hills, Summerlin, Mountains Edge, Southern Highlands, Henderson, Whitney Ranch, Enterprise, Spring Valley, Paradise, and Sunrise Manor
Get A Free Quote, Contact Us or Sign UP