Made it! Top 100 Pest Control Blog on Feedspot.com
Since we launched Pest Pro's Blog, our professional pest control experts have been dedicated to providing quality content to our readers. And we're proud to say that our hard work has not gone unnoticed. Today, Feedspot.com selected our blog as one of the top 100 pest control blogs.
Feedspot is a website that aggregates content from different sources into one place. In addition to its blog aggregation feature, Feedspot also includes a reader for RSS feeds and social media integration to follow your favorite blogs and websites on Twitter, Facebook, and Google+. For less than $2 per month, Feedspot connects businesses to their farm of creators of blogs, podcasts, news, and youtube channels. Pro functions of its platform also include Brand Monitoring tools and scheduling posts to social networks to keep your social presence active 24/7. Look no further for the most affordable RSS aggregator on the internet. Feedspot.com is one of the RSS Motherships, on which we are pleasingly surprised to have made it on their list.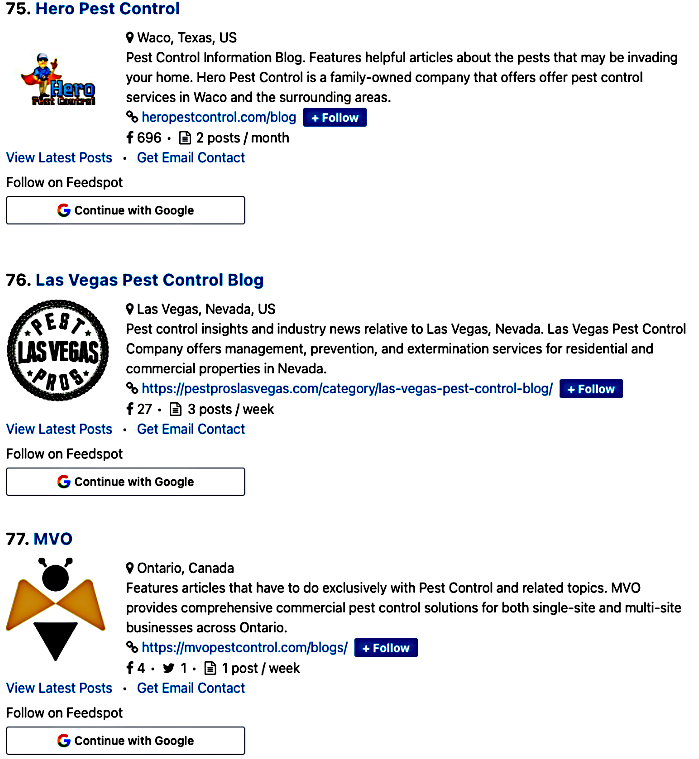 How did Pest Pros get selected?
It all started with establishing our presence in the blogosphere. Pest Pros, a local pest control company in Las Vegas, decided to start a blog to share their knowledge and expertise. Little did they know their blog would be highlighted by Feedspot.com and chosen as one of the top 100 pest control blogs. How did Feedspot.com find us? It turns out that anyone can submit their blog for consideration on Feedspot. All you need is a Google account, and you can fill out a simple form to submit your blog. After that, write, write and write. And if it's quality writing, they will rank you. At the time of publishing, we are ranked 76, so there's plenty of room to improve. Will it be possible to be on top of this list within a year? Only time and effort will reveal…
What are the benefits of being listed on Feedspot?
Being listed on Feedspot has several benefits for pest control professionals and business bloggers. The first and most obvious benefit is that it brings attention to the creator's work. Feedspot draws attention to the blog by featuring it on the front page, resulting in more visibility, web traffic, and higher engagement rates. Additionally, their platform provides users with purposeful tools and features that simplify publishing and sharing content. These include the ability to quickly add new posts, track reader engagement, and create custom RSS feeds. Overall, Feedspot is an excellent platform for promoting content and building relationships with readers. Additionally, Feedspot is a high authority site for relevant linkbacks to your site. For free. 
How will this affect Pest Pros?
This selection by Feedspot.com is an honor for Pest Pros. Being one of the top 100 pest control blogs in the world is a testament to the quality of our content and the dedication of our team. This will help raise awareness of our brand and bring in new readers and customers. We are excited to see what the future holds for us. Thus far, being selected for the top 100 has inspired this post to thank the Feedspot.com team. Subsequently, this motivates us to produce more quality content for our followers and potential customers.
We are so excited to have been selected as one of the top 100 pest control blogs on Feedspot.com! This prestigious recognition is a testament to the hard work and dedication of the team at Pest Pros. We are committed to providing our readers with the latest industry news and insights. We will continue to work diligently to be the best pest control resource online. Thank you to all who have supported us along the way! To follow, share or contact us… use social links below.