Bed Bugs in Las Vegas
Bed bugs are a big problem in Las Vegas because our beloved city is host to over 150,000 rooms for accommodation, meaning hotels and motels. It is the 3rd top tourist destination in the US and caters to over 40 million visitors annually. The city's warm, dry climate is the perfect breeding ground for these pests. At the same time, with so many visitors hopping from one hotel to another, bed bugs are widespread in real-time. These bugs are practically invisible until you truly get on your knees and look. They are onerous to rid of. The only option is a professional bed bug exterminator. That's where Pest Pros comes in. We offer affordable bed bug pest control in Las Vegas for residential and commercial properties. Our team of experts has the experience and knowledge to get the job done quickly and efficiently, so you can get back to your business without worrying about bed bugs.
Bed bugs infiltrating our vibrant lodging businesses is a crisis. Hotel management must be proactive and exercise preventive measures to avoid an enflamed chain reaction. All it takes is one disgruntled guest to hinder our increasingly good reputation, not to mention the lawsuits. Landlords hosting tenants with infested rooms or dormitories must solve the problem correctly and efficiently before the outbreak consumes the entire compound. One female of this species could lay 12 eggs every day. Letting your guard down for a month could be unreasonably costly.
Traveling home from bed bugs-infested hotel?
First, check your luggage and clothing when you return from traveling. If you find any bed bugs, don't try to treat them yourself. Instead, isolate your infested property by placing it outside, preferably in the sun. Park your car in the sun too. Then call a professional right away. You should inform the hotel as well. Use the links below to learn more about handling bed bug incidents in Las Vegas. 
Let's rid of bed bugs from Las Vegas!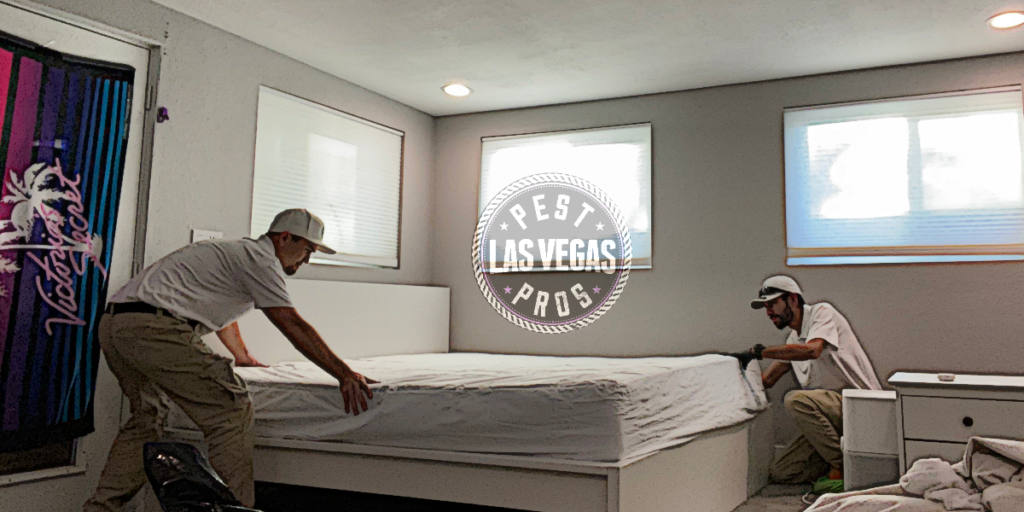 It is common knowledge that bed bugs were once on the brink of extinction in the 1950s. However, today we have the highest numbers in history. This is due to the increase in population, advancements in travel, and multi-housing dwellings. Suppose we can use the analogy that bed bugs are infectious diseases because they are transferable, like the infamous Covid. Once a kid brings a bug home from a sleepover, the spreading of the bed bug is contagious within the household, just like some bacterial and viral infections. First, it breeds in the child's bed, then the kid comes to hang out on the adults' bed, and soon the household is infested with bed bugs, eggs, and nymphs, all within a few short weeks.
Bed bugs are notoriously difficult to exterminate. However, Pest Pros has the experience and expertise to do the job. Our specialists use several techniques to rid your home or business of these pests, including thermal remediation, steam treatment, and chemical extermination. We also offer a money-back satisfaction guarantee because we're sure that the job is done right. Additionally, we offer a substantial discount for large-volume work orders. Do you operate a hotel, a motel, or manage apartments? We have a deal for you! 
Dealing with bed bugs requires a pest control company that you can trust and afford. Pest Pros has been servicing the Las Vegas area for over 20 years and has a proven record of affordability and efficiency. Contact us for a free consultation.